5005 Aluminum Circle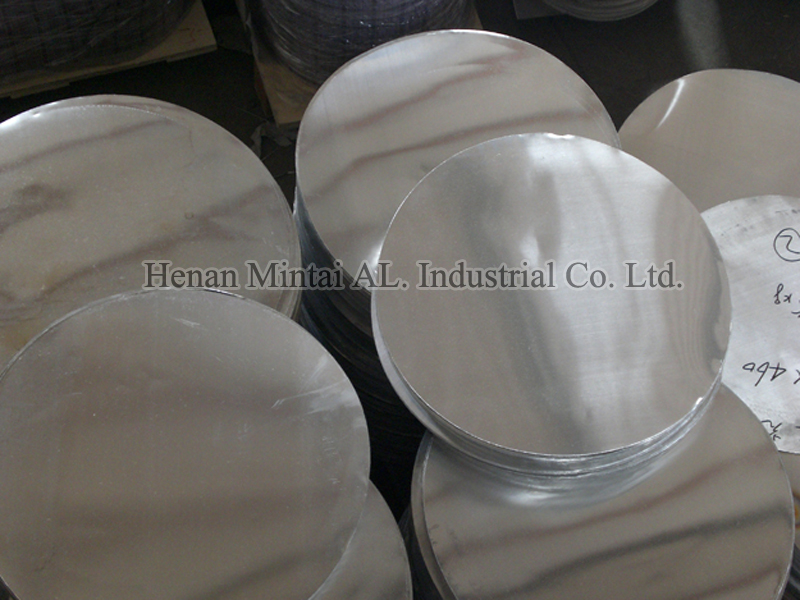 General information for aluminum circle
Alloy:5005
Temper:H32,H34,H111,H112,HO
Thickness:0.5-10mm
Diameter:50-1200mm
Standard produce:EN,JIS,GBT,ASTM
MOQ:3tons per size
Mother coil:DC,CC
Delivery:Within 30 days after received your deposit
Surface:Bright & smooth surface, free from defects like white rust, oil patch, edge damage
5005 aluminum circle chemical properties
| | | | | | | | | | | | | | |
| --- | --- | --- | --- | --- | --- | --- | --- | --- | --- | --- | --- | --- | --- |
| Alloy | Si | Fe | Cu | Mn | Mg | Cr | Ni | Zn | Ca | V | Ti | Other | Min Al |
| 5005 | 0.3 | 0.7 | 0.2 | 0.2 | 0.5-1.1 | 0.1 | / | 0.25 | / | / | / | 0.15 | Remain |

5005 aluminum circle package
Put the driers side the aluminium circle , keep the products dry and clean.
Use the clean plastic paper , packing the aluminium circle , keep good sealing.
Use the snakeskin paper , packing the surface of the plastic paper , keep good sealing.
Next, there are two ways of packaging : one way is wooden pallet packaging, using the crusty paper packing the surface; another way is wooden case packaging, using the wooden case packing the surface.
Final, lay the steel belt on the wooden box 's surface , keep the wooden box fastness and secure

5005 Aluminum circle properties
Alloy 5754 aluminium circles, deep drawing quality, good spinning quality, excellent forming and anodizing, no four ears
Excellent reflectivity, good for Polishing
Good anodized quality, suitable for hard anodizing and enameling
Clean surface and smooth edge, hot rolled quality, fine grains and after deep drawing no looper lines
Excellent pearl color anodizing

5005 Aluminum circle application
1.Our high quality aluminium circle sheet can be used in the production of a variety of cookware products, such as for deep drawing cooking pot, spinning quality for kitchen utensils, for aluminum Non stick cookware, for cookware bottom, for non-stick cookware, for non-stick pan, for non-stick pan, for kitchenware etc.
2.Aluminum circle is used in the electrical,heat preservation, mechanical manufacturing, automotive, aerospace,military industry,mold,construction,printing and other industries, such as kitchen supplies, such as titanium,pressure cookers and hardware items such as chimney, water heater etc. Now, it is mainly used for capacitor case,aluminum pots,
aluminum cans/ bottles,aluminum bowl, electric rice cooker bladder, the road sign, aluminum drum, aluminum lamp cover, electric kettle and so on.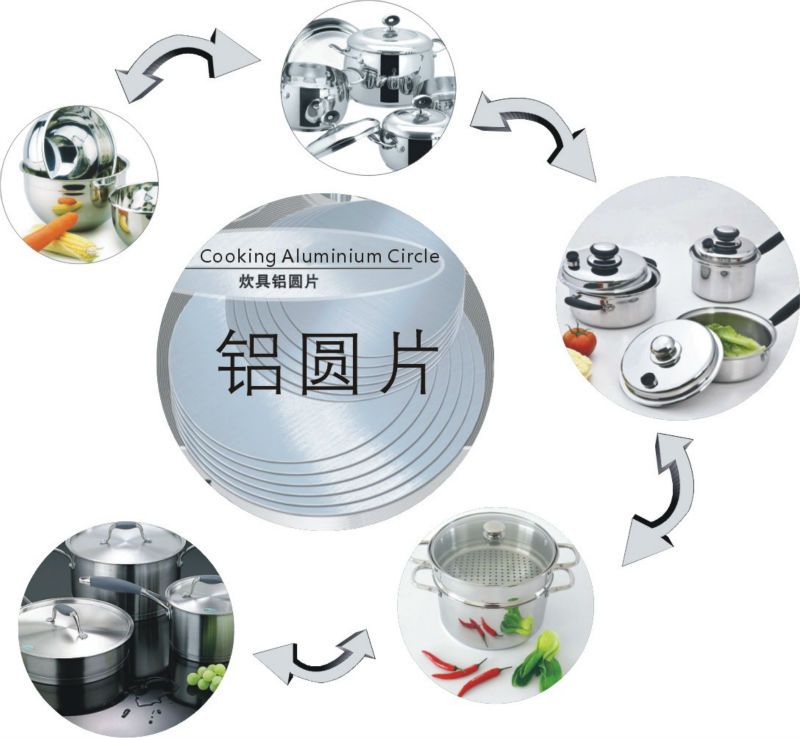 About another alloy aluminum circle
chemical properties aluminium circle
Alloy

Si

Fe

Cu

Mn

Mg

Cr

Ni

Zn

Ca

V

Ti

Other

Min.A1

1050

0.25

0.4

0.05

0.05

0.05

-

-

0.05

-

0.05

0.03

0.03

99.5

1060

0.25

0.35

0.05

0.03

0.03

-

-

0.05

-

0.05

0.03

0.03

99.6

1070

0.25

0.25

0.04

0.03

0.03

-

-

0.04

-

0.05

0.03

0.03

99.7

1100

0.95

0.05-0.2

0.05

-

-

-

0.1

-

-

-

0.05

99

1200

1.00

0.05

0.05

-

-

-

0.1

-

-

0.05

0.05

99

3003

0.6

0.7

0.05-0.2

1.0-1.5

-

-

-

0.1

-

-

-

0.15

Remainder

3004

0.3

0.7

0.25

1.0-1.5

0.8-1.3

-

-

0.25

-

-

-

0.15

Remainder