5754 Aluminium coil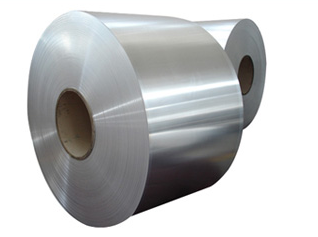 5754 Aluminium coil description
Alloy:5754
Temper:H111,H22,H32,H34,H112,H38,HO
Thickness:0.5mm-6.0mm
Width:100mm-2300mm
Standard production:ASTM-B-209M,BS EN 485-2,BS EN 573-3,GB/T3880-2008
MOQ:5 tons per size
Mother coil:DC
Weight:about 0.5-2.5mts per pallet
Surface:Mill finishing,checkered
Package:Export standard package with wooden pallet
Package way:Eye to wall or eye to sky
Delivery time:within 30days
Origin:China
Certificate: Mill Test Certificate,Certificate of origin:Form A,Form E,CO
Regular size:1.0*1219*C,2.0*1220*C,3.0*1200*C,1.0*1200*C,2.5*1250*C, 3.0*1500*C,2.0*1500*C
5754 Aluminium coil product properties
Moderate strength
Good corrosion resistance
Welding weldability
Easy to processing molding
Skid resistance5754 Aluminium coil Chemical Composition
5754 Aluminum coil chemical composition
| | | | | | | | | |
| --- | --- | --- | --- | --- | --- | --- | --- | --- |
| | Si | Fe | Cu | Mn | Mg | Cr | Zn | TI |
| GBT/3190-2008 | 0.4 | 0.4 | 0.1 | 0.5 | 2.6-3.6 | 0.3 | 0.20 | 0.15 |
| Inner quality standard | 0.15 | 0.25-0.35 | 0.05 | 0.1 | 2.7-3.0 | 0.15-0.3 | 0.05 | 0.01-0.02 |
5754 Aluminium coil mechanical properties
| | | | |
| --- | --- | --- | --- |
| Thickness(mm) | Tensile strength(Mpa) | Yield strength(Mpa) | Elongtion(%) |
| 1.5-3.0 | 190-260 | 80 | 10 |
| 3.01-6.0 | 190-260 | 80 | 12 |
| 6.01-7.0 | 190-260 | 80 | 14 |
5754 Aluminium coil application
1.Ships, vehicles and aircraft plate weldment ; the need for strict fire protection of pressure vessels, refrigeration equipment, tower, drilling equipment,
transportation equipment, missile parts, plate armour.
2.used in electric machine components.Including:protective plate,protective box,capacitor box,tank of power capacitor,electrolytic condenser, variable of battery, volume shaft, loudspeaker framework, switch plate, semiconductor radiator, magnetic disk,motor frame, fan blade, electric cooker, cooling fin, heat sink etc.
3.Manufacturing trucks, tower building, ship, train, furniture, machinery parts, precision machining with the tubes, rods, shaped, sheet metal, wind power.
Another alloy aluminium plate
Chemical Properties
Alloy
Si
Fe
Cu
Mn
Mg
Cr
Ni
Zn
Ca
V
Ti
Other
Min.A1
1050
0.25
0.4
0.05
0.05
0.05
-
-
0.05
-
0.05
0.03
0.03
99.5
1060
0.25
0.35
0.05
0.03
0.03
-
-
0.05
-
0.05
0.03
0.03
99.6
1070
0.25
0.25
0.04
0.03
0.03
-
-
0.04
-
0.05
0.03
0.03
99.7
1100
0.95
0.05-0.2
0.05
-
-
-
0.1
-
-
-
0.05
99
1200
1.00
0.05
0.05
-
-
-
0.1
-
-
0.05
0.05
99
3003
0.6
0.7
0.05-0.2
1.0-1.5
-
-
-
0.1
-
-
-
0.15
Remainder
3004
0.3
0.7
0.25
1.0-1.5
0.8-1.3
-
-
0.25
-
-
-
0.15
Remainder
3105
0.6
0.7
0.3
0.3-0.8
0.2-0.8
0.2
-
0.4
-
-
0.1
0.15
Remainder
3005
0.6
0.7
0.3
1.0-1.5
0.2-0.6
0.1
-
0.25
-
-
0.1
0.15
Remainder
3A21
0.6
0.7
0.2
1.0-1.6
0.05
-
-
0.1
-
-
0.15
0.15
Remainder
3104
0.6
0.8
0.05-0.25
0.8-1.4
0.8-1.3
-
-
0.25
-
-
0.1
0.15
Remainder
5005
0.3
0.7
0.2
0.2
0.5-1.1
0.1
-
0.25
-
-
-
0.05
Remainder
5083
0.4
0.4
0.1
0.4-1.0
4.0-4.9
0.05-0.25
-
0.25
-
-
0.15
0.05
Remainder
5052
0.25
0.4
0.1
0.1
2.2-2.8
0.15-0.35
-
0.1
-
-
-
0.05
Remainder
5182
0.2
0.35
0.15
0.2-0.5
4.0-5.0
0.1
-
0.25
-
-
0.1
0.05
Remainder
5754
0.6
0.7
0.05-0.2
1.0-1.5
-
-
-
0.1
-
-
-
0.05
Remainder
6061
0.4-0.8
0.7
0.15-0.4
0.15
0.8-1.2
0.04-0.35
-
0.25
-
-
0.15
0.05
Remainder
7075
0.4
0.5
1..2-2.0
0.3
2.1-2.9
0.18-0.28
-
5.1-6.1
-
-
0.2
0.05
Remainder