3003 Aluminium checker plate
3003 Aluminium chequered plate pattern
big 5 bar
small 5 bar
diamond
3 bar
pointer
2 bar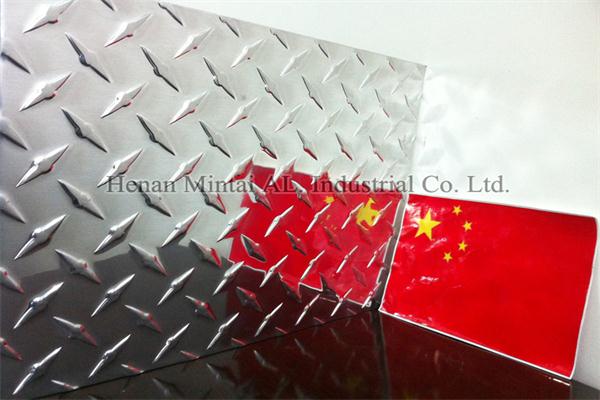 3003 Aluminium chequered plate pattern
Grade:3003
Thickness: 1mm-6mm
Width: 2200mm max.
Length: 12000mm max.
Temper:H12, H14, H16, H18, H22, H24, H26, H32, H34, H36, H38, O etc.
3003 Aluminium chequered plate applications
Ship deck
Autos
Workshop floors
Building floors and steps
Antiskid floor of bus
Elevator
Treadboard
Stair tread
Vehicle step
About Aluminum tread plate/aluminum checker plate/aluminum chequered plate
The classification of the aluminum tread plate by bar:Five bar aluminum tread plate,Three bar
aluminum tread plate,aluminum diamond plate,orange-peel aluminum tread plate.
The classification of the aluminum tread plate by surface :bright aluminum tread plate,mirror
aluminum tread plate.matte aluminum tread plate
The classification of the aluminum tread plate by feature :corridor aluminum tread plate,anti-skid
aluminum tread plate,rust-proof aluminum tread plate